Top 9 Bathroom Renovation Tips | learn from our mistakes | The Powell Buehler Group |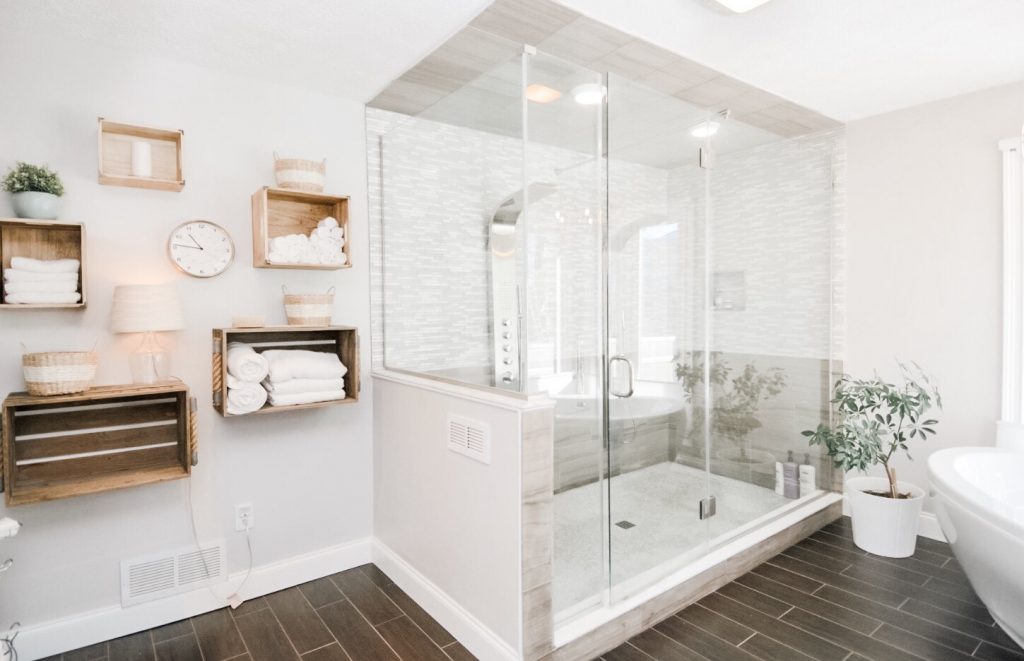 As promised here are our bathroom renovation tips! As of right now Craig and I have remodeled a total of 11 bathrooms. Learning from your mistakes is smart, but learning from other's mistakes is even better. 😂 So here you go!
These tips are more function related than design related. The not so fun stuff, but the VERY IMPORTANT stuff. Design elements tips of a bathroom coming soon.
TIP 1. If possible, avoid making the toilet the first thing you see when you open the bathroom door….because toilets are ugly.
TIP 2. Don't be surprised if you remove flooring and uncover damage that you didn't know was there. Sometimes flooring covers water damage from years ago. Not a huge deal, just try to factor this possibility into your budget. The demo process typically uncovers new problems that you didn't know were there.
TIP 3. LIGHTING IS EVERYTHING. Don't skimp on the amount of lights in the bathroom. Use LED bulbs to maximize the existing lights. We have had the most success shopping online for bathroom lights. Amazon and Wayfair are my top picks right now.
TIP 4. Bathroom exhaust vents are more important than you think! A dirty vent can even lead to a house fire. Clean your vents regularly. Also, make sure your vent is connected to the exterior of the house. In other words, it's not going directly into the attic. This can create moisture in the attic which can cause mold growth over time. It's a simple fix that costs about 150-250 bucks.
TIP 5. When it comes to flooring, wood is not an option. Your floors have to be water resistant. You can do tile, water resistant vinyl or water resistant laminate flooring. All great options!
TIP 6. Spend a few extra bucks on an eco friendly toilet. This will cut down your water bill saving you money in the long run. Not to mention, save water!
TIP 7. If you can fit a linen closet somewhere in your bathroom, DO IT! You'll thank me later.
TIP 8. Check out HomeGoods for bathroom mirrors. Or use your existing  mirror and create your own frame for it with painted trim. So easy!
TIP 9. Plan for your plugs. We need outlets when we're getting ready. Am I right ladies?! Make sure you have enough outlets that are GFCI protected. AND make sure you know exactly where they're going.
Please add your tips to the comments. I'd love to hear about your bathroom remodeling experiences or future renovation plans!